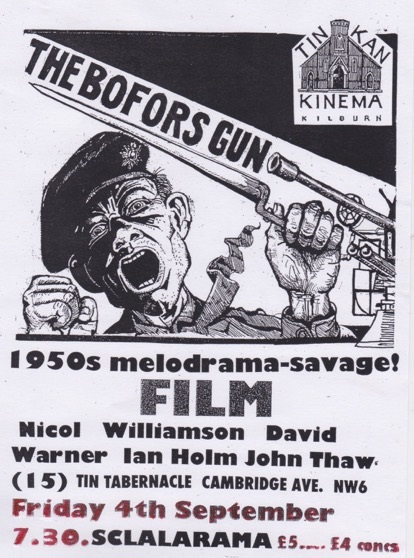 Tin Kan Kinema – The Bofors Gun
The Bofors Gun is a 1968 British drama film directed by Jack Gold and starring Nicol Williamson, Ian Holm and John Thaw. It is based on the play Events While Guarding The Bofors Gun by John McGrath. Set in 1954 during the British peacetime occupation of West Germany following the Second World War, it portrays the increasingly violent interaction between members of a squad of soldiers during a single night of guard duty.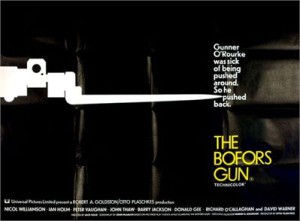 The Bofors Gun is a surprisingly pessimistic and brutal invocation of the lives of unwilling recruits, forced to perform meaningless duties in peace time. It has a strangely evocative energy, quite unconnected to it's subject matter, and belongs to a genre that includes Munk's Eroica and The Last Detail. Nicol Williamson is outstanding as an icon of nihilism. A tour de force of cold war angst…
Presented in a tin building which doubles as a battleship, our own Bofors gun ( we possess one of the few in good condition ) is an interesting accompaniment to this, very rare showing.
Followed by a discussion, and then live music.
Drinks will be on sale.